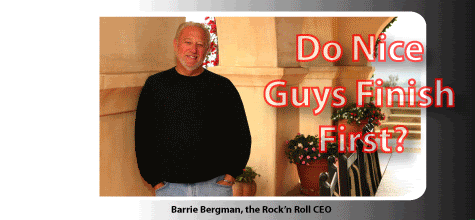 Interview with Barrie Bergman, Founder of Bare Escentuals & The Record Bar, Author of Nice Guys Finish First.

Entrepreneur Meister is a column that focuses on the lives and ventures of entrepreneurs. We take a close look at the entrepreneurs behind the vision, strategy, passion and action in ventures across all sectors.
Written by Damir Perge, edited by Jana Arnold, Entrepreneurdex
As a venture capitalist, I've met a lot of entrepreneurs but never one as funny as Barrie Bergman. We've all met people who remind us of someone we've seen before. I can surely say Barrie is the "Rodney Dangerfield" of entrepreneurs. Rodney Dangerfield was one of my heroes. I never got to see him live and I regret it. However, during my interview with Barrie, there were a few times I thought my stomach was going to pop from laughter.

Barrie is the "American Dream" come to fruition. With his success in two ventures, he's laughed all the way to the bank more than once. He wrote a book called Nice Guys Finish First. I've always believed in that concept, but when you hear Barrie speak you know being nice pays off handsomely.

"I came from a long history of entrepreneurship," Barrie told me. "My grandparents were Russian immigrants, my parents, my wife and I are all entrepreneurs." When Barrie was in high school he started managing a band and from that point, he said, "I knew I'd always work for myself." Most great entrepreneurs can't work for other people. Barry explained, "I thought about working for a major music label in New York but didn't think that would work out very well." It's a good thing Barrie chose a different route in the music business.

Barrie began working with his father at the family record store in North Carolina in 1963. Later, his parents had a store in Durham and he and his wife had a store in Chapel Hill. After building the business to eight stores, Barrie's father decided he was ready to get out of the music retail business and it was up to Barrie to run it, manage and operate it. Barrie took over and grew the business, The Record Bar, into a 180-store national chain.

Behind every great entrepreneur there is a great woman.
Barrie didn't do it alone either. His wife Arlene is his partner. "I've been married 45 years – my wife was always my partner. We're best friends and work is a natural extension of that. We worked out the rules of how it would work so it didn't make us absolutely crazy," he said.
They took the time to develop a culture that could scale. "Our idea was that it was always a family – we created a culture where spouses were a part of the business." We didn't want the spouses to resent the time their husband or wife spent working with us.
Like all great entrepreneurs, they sold the business at the right time. Today, record stores are a very tough business and they had the vision and foresight to sell it in 1989.

Barrie makes it clear that being a nice guy – or having ethics are critical to any entrepreneur's success. He proved it during his days in the music business by turning down merchandise that was likely stolen (it was coming from the grey market) and refusing to make a huge profit. Barrie said, "It's important to be able to look at yourself in the mirror and like who you see." Every entrepreneur should make that a point. "I was nice to my employees, my customers and I felt good about myself at the end of the day," he said.

After cashing out of the music retail business, Barrie ran a record label for a while. Then a friend of his, John Hansen, a Harvard business school guy, wanted to do something in the San Francisco Bay Area and they founded Bare Escentuals Beauty, a premier brand of all-natural cosmetics and skin care products. In the cosmetics business, unlike the retail music business, the cost of the product is 28% so that peaked Barrie's interest. "I can sell anything, " Barrie said. "Selling stuff is selling stuff, and running a company is running a company." continued
Download the PDF of: ENTREPRENEUR MEISTER: Barrie Bergman